Alien Abductee Assessment Checklist Questions
by Paul Schroeder
Before you deny alien abductions abjectly or even suspect that you are experiencing them, this checklist is engineered to assist in determining if regressive hypnosis or more investigation may be required.
If you can strongly and unequivocally say,"Yes!" to ten or more questions, you may well be one of millions worldwide who has had experiences of high strangeness with alien entities, but one, like most,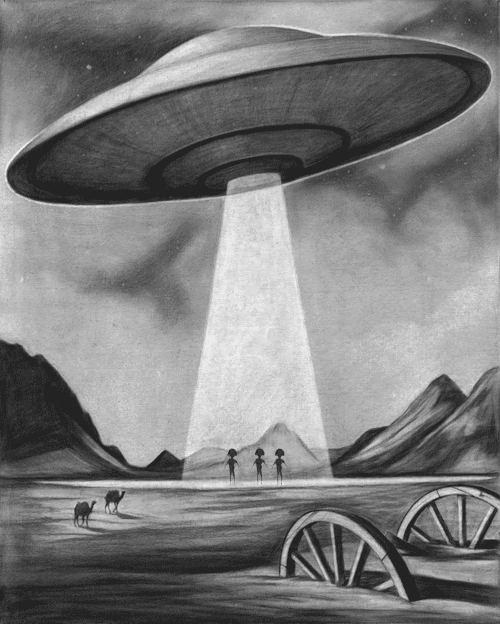 whom has little idea.
Taken astrally during sleep,  'screened' recollections resemble vivid dreams.
 One may even be physically marched around an alien craft to later awaken in bed with little clue, for aren't all experiences, during sleep. mistakenly recognized as mere dreams?
These questions point to alien tampering that is very elusive but which in retrospect examinations,  becomes as obvious, as a trout in the milk.
Then, regressive hypnosis will reveal the whole entire iceberg and not just this suggested tip  from an assessment.
INVENTORY QUESTIONS:
Have you ever suffered bouts of severe disabling anxiety and panic attacks?
(for men): Are there lumps or is there a small, hard 'cyst' within the skin of your scrotum/testicles?
(for women):
Did you ever suspect that you might be pregnant and learned that you were not?
Did you ever miss a period and were confused about why?
Do you have feminine problems like painful periods?
(for both men and women):
Did you ever awaken with sore genitals?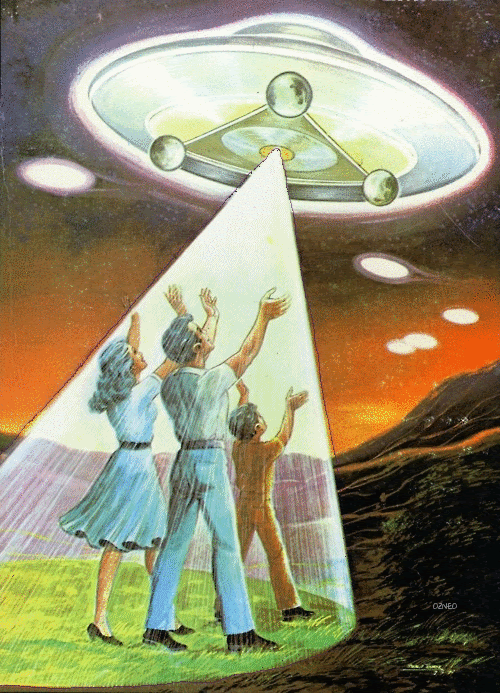 Did you ever have a diagnosis of low blood pressure, heart rate or body temperature?
Have you ever awakened with soreness, bruises or scratches on your body?
Did you ever on more than one occasion experience a high tone ringing in your ears?
Have you experienced repeated sinus difficulties?
Is your hearing faculty extraordinarily good?
Have you ever had nosebleeds in the morning or later in the day for no reason whatsoever?
Do you awaken more tired than you were going to bed?
Do you awaken during the night with being startled / have nightmares that linger in your memory longer than usual dreams?
Any headaches/pains behind just one eye?
Do particular lights/smells/sounds affect you with a hypersensitivity?
Have you memories/dreams of odd beings?
Have you ever noticed black cars, black helicopters or men in black suits?
Did you ever spot a UFO or seen lights in the sky making unusual maneuvers?
Did you suddenly ever smell rotting odors or the smell of burning wire for no good reason and with no source discernible?
Did you ever see what looked like odd swirling fog or mists indoors?
Have electrical or electronic equipment/ appliances, light bulbs, wrist watches acted peculiarly around you?
Have you always secretly believed that you were truly most "different" than other people?
Are you oddly, unusually telepathic/psychic at times?
Are you extremely licentious /lascivious/sexual?
Have you ever gained or lost time?(such as arriving much sooner or much later while driving somewhere)
Have you ever felt that you must suddenly lay down for a nap feeling dazed or drugged for no reason?
Have you ever experienced what you thought was an out of body experience?
Have you ever felt eyes on you or sensed an unseen presence nearby?
Do your pets react to unseen presences?
Have you ever awakened as if no time had elapsed between going to bed and awakening, with no recalled dreams ?
Have relationships/sex been predominantly discomforting and problematic?
Have you studied the nighttime sky and stars with an over fascination and undue anxiety?
Have you awoken to find random possessions/clothing not where you left them?
Were you ever very insistent about not having children?
Is there a feeling that you know something you should not talk about or even think about?
Have you ever felt that you were being watched by unseen eyes during sex ?
Have you ever 'dreamed' of aliens/UFOs?
Do you have difficulties sleeping/unusual sleep patterns?
Are you or have you ever been frightened of closets such that the closet door must be firmly closed before you can close your eyes to go to sleep?

 Have you moved many times/changed your place of residence often?
Are you very phobic of injections and dentists/ medical procedures?
Do you often feel that 'elevator feeling syndrome' (of eyes behind you)/ being watched?
Do you go to bed with the light/ radio/ television on or does your bed HAVE to be up against a wall for a feeling of 'safety'?
Are you much more open minded than most people?
Are there gaping memory gaps around childhood/puberty years of your life?
Have you experimented with altered states of consciousness?
Do you think of plants and animals as just as important as human beings?
Have you had vivid dreams of flying?
Have you dreamed of being chased or of rescues?
Have you dreamed that you were in a classroom /taking odd exams?
Have you dreamed of crowded rides on buses/trains or dreamed you were travelling on a bicycle?
Have you dreamed of catastrophic wars/tidal waves/ mass evacuations?
Have you dreamed about odd or unusual small children ?
Have you dreamed/had nightmares about large bugs or large insects?
Have you ever dreamed of seeing / being aware while being underwater/or breathing underwater?
Have you ever dreamed that you were being surgically worked on?
Are you virtually immune/highly resistant to drugs like Novocain, requiring dentists to give up on you sometimes?
Do you have an exaggerated startle reflex?
For another fast 'test', ask yourself:
"where are alien implants, in my body?"
and allow your hands to wander, on their own; your unconscious mind will take over and you'll notice where your hands reside…
Rather than blatant landings of alien craft on your front lawn (or the White House's front lawn), the alien human abduction experience is subtle and ineffable, inter dimensional and elusive and predominates when we are asleep in R.E.M.s.
The images recalled as 'dreams' are, in truth, alien- imposed  scenarios, 'tests' that are so uniform from one abductee to the next they that seem almost stock footage in that so many similarities abound.
The residual post trauma of abductions resolves into a disease syndrome, containing many of the above emergent symptoms as clear indicators.
To those UFO investigators who cling only to 'hard evidences', I chide, how
can we 'prove', that reptilian aliens reportedly fancy the taste of human beings?
For years, at meetings at Bud Hopkins house in New York City, many abductees, over the years gleaned that ' we are a harvest', a mere condiment in the Universe, an echo of Rod Serling's Twilight Zone episode, "To Serve Man", when it comes to reptilian diets of human flesh.
"Hard facts and empirical scientific evidence", may assist with collecting evidences in superficial craft sightings, as logistics, but such an approach fails to reveal humankind's continued interactions with non-human intelligence behind the steering wheels of UFOs.
The "Devil's hour", the last REM period in early morning is the worst time.
I and many others in OBEs ghave also encountered reptilian astral worlds designed and equipped to trap people's souls, worlds almost as real as this one, where humans miserable, lost and frightened reside in darkness , awaiting recycling into somatic bodies for continued E.T. 'milking'..
Restaurants, highways and large apartment buildings false 'sets' are filled with such 'dead', not in Heaven, but E.T. appropriated with impunity and proprietary ownership,  like ghosts, unhappy , still trapped and lost souls.
When I recover from such virtual reality 3-D experiences, I remember to request:
" All of my soul fragments trapped in astral worlds are to be first healed, and then returned to me, never to leave, again",
and I remember to pray for the lost souls who eat, live and travel in such distraction, in synthetic reptilian reality constructs.
It's illuminating often to see humankind's resistance to abductions as heroes, rather than as victims.
To unlearn fear , one must  see oneself not as an alien- beset person, with a soul within, but as a soul eternal, who now has  human problems, with  highly controlling aliens.
We  stumble in the dark, blindfolded, all of our lives, only to discover that we are deluded and mislead by those who offered us light, to travel their religious sanguine, Pollyanna path.
Dreams, when one is harassed by these beings, are often  not recollections, but instead  screen-memories imposed, snippets of odd psychic tampering.
Since E.T. beings who see us as a product, not a sentient race , impose dream-scenarios during abductions to delude one as to what is actually occurring, such recollections cannot be trusted to reveal greater truths.
Madness is an offshoot of encounters with them, a retribution for those seeking understanding and equanimity with demons thrown into the equation to muddle the fount such that none may drink.
I force myself to not 'look up', anymore at the night sky, after the ensemble overhead sighting of nine craft, I witnessed,  and worse, after  concurrent poltergeist and telepathic disturbances and 'nightmares' that  'unseen' critters astonishingly 'pulled'  and enacted within my home, afterwards. .
They climbed down the psychic ladder of my awe, from that 'sighting', into my house and life.
The sole focus on UFOs, the mere craft-Cadillac-vehicles, without any remote mention of  E.T. pilots' tactics and motives within that 'sighting', always seems an E.T. clever Jedi-mind-trick, and after reading endless such reports, makes one wonder, if intelligent life exists, on Earth..
There have been 'positive' offshoots for abductees :
an ontological shift unfurling God, far from 'the-UFO- five-books-of-Moses," and "New Testament"
an exploration of "dreams-that-weren't-dreams",
an awakening of spiritual essences E.T.s are addicted to,
adeptness with hypnosis and metaphysics 'tools',
and a comparable recognition of the never suspected unseen goodness, also afoot..
For some abductees, without these UFO/E.T. bizarre experiences and their awful suffering, no wind-attempting butterflies,  only an Earthbound-stolid caterpillars , would have evolved….
Assure yourself, totally convinced, that you WILL remember,  and soon you will begin to recall odd "dream" snippets that for no logical reason, linger, upon awakening.
The simple trick is to play that snippet over, and over, like a tape machine until suddenly, what happened just before or just after , surfaces.
In this way, using conscious effort, one can unfurl a larger segment to see through the disguise.
One can self-hypnotize suggestions to oneself to overcome the blockages.
I have spontaneously recalled my episodes without any regressive hypnosis inductions..
How to stop, amend and blunt these kidnappings is what is truly more tantamount than resolving deeper meanings..
We are in a hall of mirrors with a quicksand floor, and the truth, is that
we are all hybrids, rendered into naked apes, with DNA manipulations over eons, by the reptilian masters of the universe, who created this 'preserve', that we call Earth, who see us as a product, a harvestable crop, much as we see chickens.
POSTSCRIPT:
Director of CIA, Admiral R.H. Hillenkoetter:
"It is time for the truth to be brought out in open Congressional hearings. Behind the scenes, high-ranking Air Force officers are soberly concerned about UFOs.
But through official secrecy and ridicule, citizens are led to believe the unknown flying objects are nonsense.
To hide the facts, the Air Force has silenced its personnel." p. 58, quoted from New York Times, February 28, 1960, p. L30
("I've been convinced for a long time that the flying saucers are interplanetary. We are being watched by beings from outer space." —Albert M. Chop, deputy public relations director, NASA, True Magazine , Jan. 1965. ")
BIO:
Abductions and their remnant elusive memories have opened all this for Paul, a confirmed atheist, UNTIL Paul saw aliens float him out of his body, in his bed, at night.
Then, he knew that they were interested in an essence that he never suspected that he had, a nonphysical soul.
Our spiritual powers that interest and addict inter-dimensionals are the very powers that can be used to thwart further attacks.
They infect auras with attachments to themselves and ride the reincarnation roller coaster with human beings, as a sanctuary, to avoid the death that they fear and to steal the spiritual recycling that we have.
Souls are garnered, detoured from our natural spiritual evolution in Heaven.
These joyriding grays can be sinister, discorporate alien souls, stuck to our energies, who bring a new meaning, to the concept of a silent invasion.